Boudoir Vanities, Mirrored Vanities
Click on the images to access more information about the items.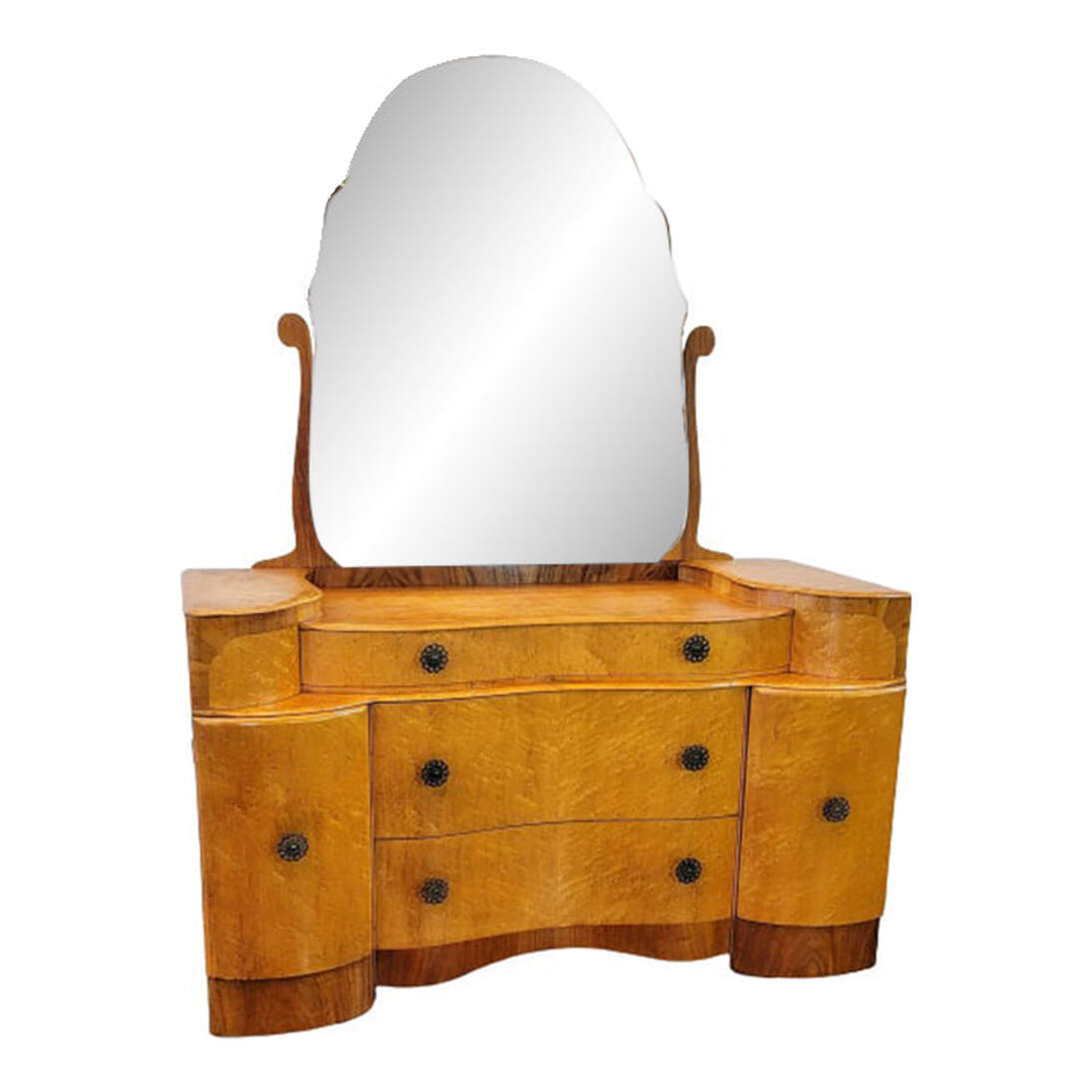 Mirrored Bedroom Vanity | Supersuite / Beautility | England | Late-1950s

Vintage bedroom vanity with mirror was manufactured by Supersuite / Beautility Furniture in England between 1957 and 1959.

The fully shaped dressing chest is built of oak wood veneered with beautiful sugar maple in bird's eye and finger curl figures.

The back rail, curved stiles, elevated top platforms, plinth cabinet bases, and curved front apron are finished with burl figured walnut.

The curvy chest contains one shallow jewelry drawer at top over two deep storage drawers. The drawers feature dovetail construction and serpentine fronts. The drawer interiors are built with oak and mahogany woods.

At the front ends are slightly inward angled single convex door storage cabinets with one fixed shelf each. Mahogany wood lines the door interiors and is used for the molded front edges of the shelves. The cabinets surmount walnut veneered convex plinth bases.

The door and drawer pulls are circular openwork molded metal with an antique patina finish. The motif is ferns, with leaves at the center and the curled fiddleheads radiating out in a circle.

The back of the chest is paneled with oak wood.

The shaped, beveled mirror is backed with oak wood in the shape of the mirror, and held in place with two long wooden stiles down the back. The mirror may be tilted by a finger pull at the bottom front of the mirror.

SIZE:

46.25" wide

24" deep (front to rear of mirror supports)

60.5" high (from floor to top of mirror)

26.75" high (floor to top of elevated sides)

25.5" high (floor to center top)

1695

Click on the photo above to learn more and view further photos.