​Cabinets and Nightstands
Click on the images to access more information about the items.​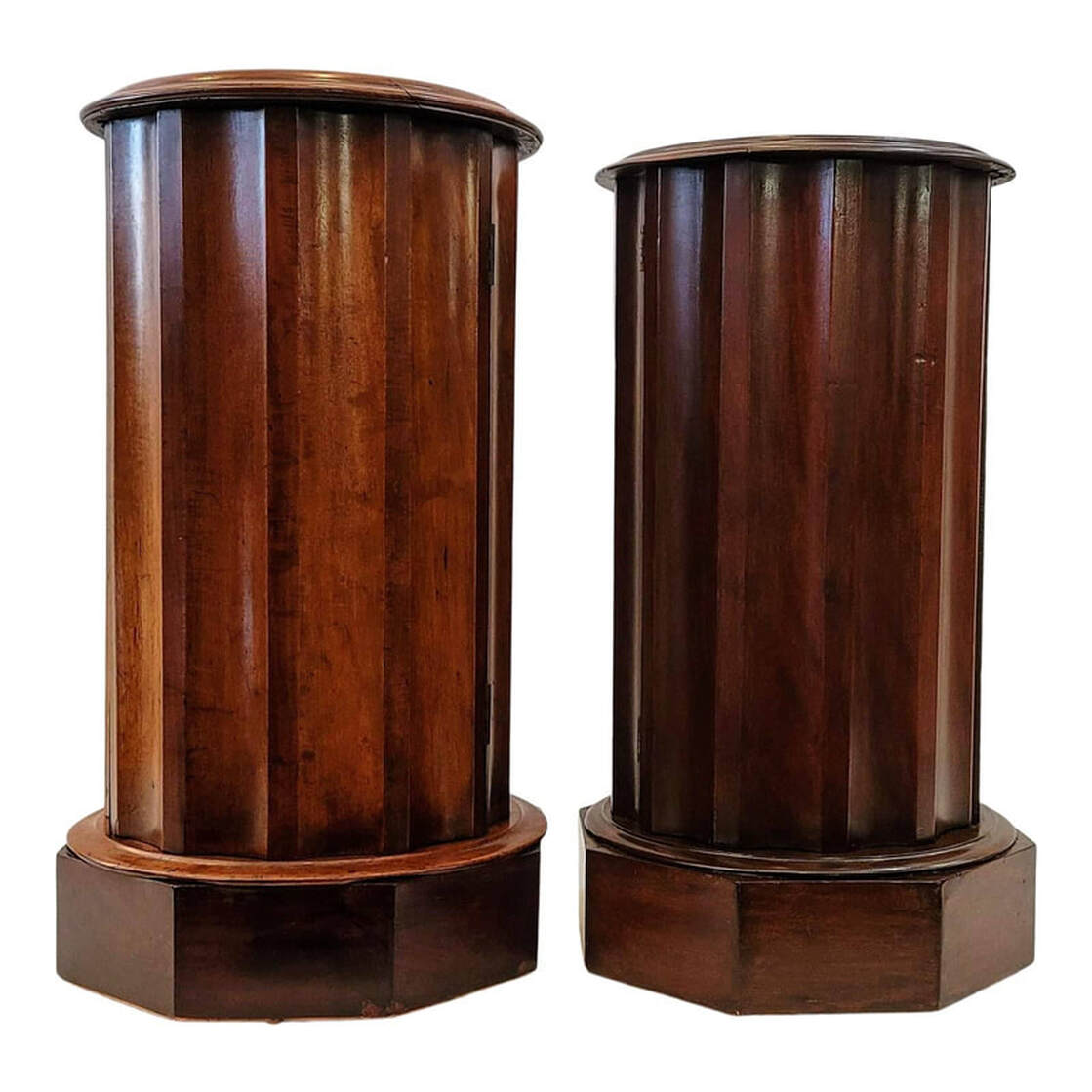 Nightstands | England | 1850-1880

Two bedside cabinets from Victorian England in the architectural shape of fluted columns on octagonal plinth bases.

The fluted wood columns are carved from mahogany wood and feature a single door on the fronts.

Each interior contains a single removeable shelf.

The tops are inset with Palombino Marble.

Although these were originally intended as bedside pot cupboards, they were also used as liquor cabinets, lamp tables, candle stands, plant stands, and for bust and sculpture display.

3195

Click on the photo to learn more.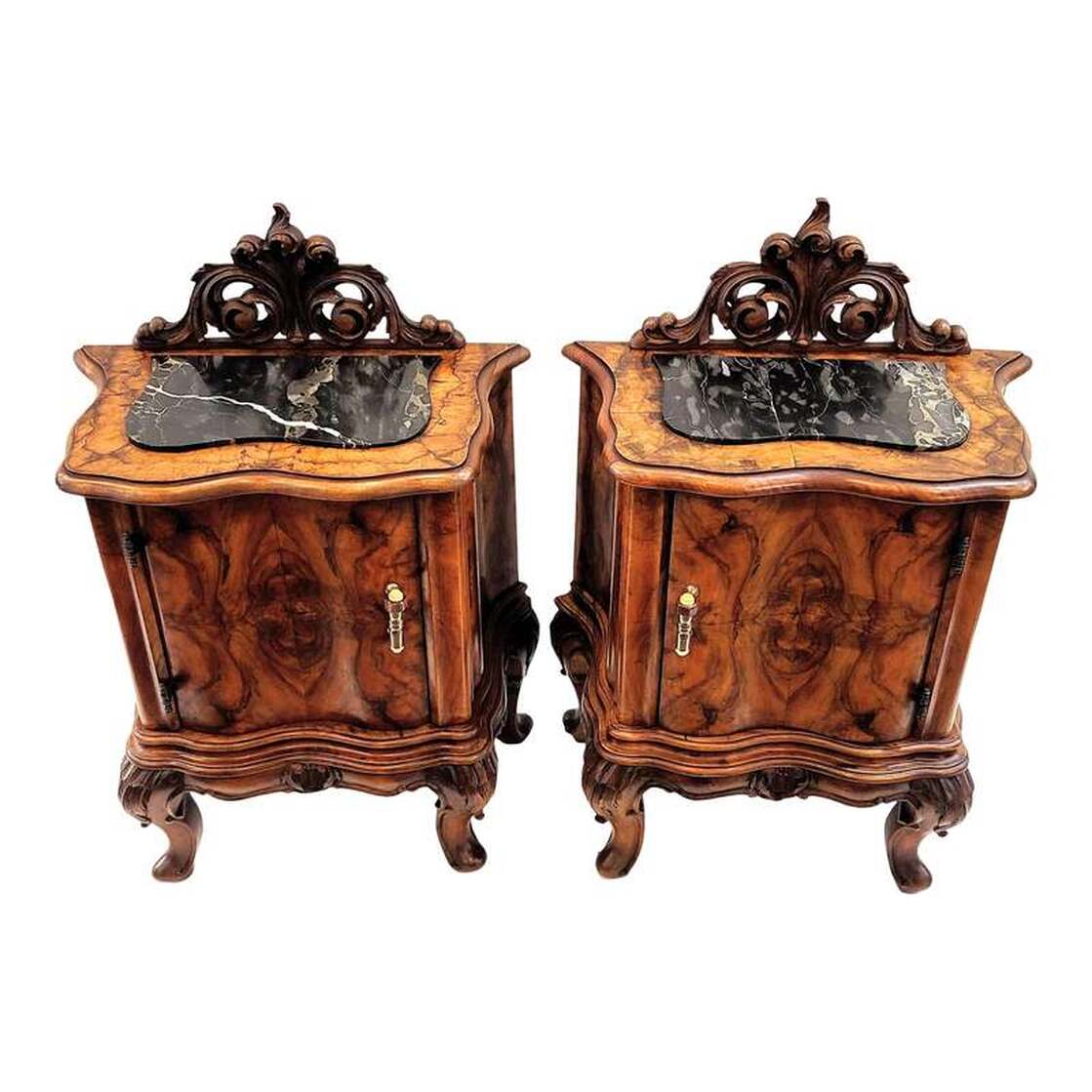 Nightstands | Louis XV | Rococo | Italy | 1890-1929

Pair of vintage 1890-1929 Italian Rococo Revival / Louis XV nightstands, possibly made in Milan where it was popular to use brown walnut in the building of furniture.

The serpentine shaped cabinets are constructed of oak wood overlaid with matched burl figured walnut wood veneers. The stiles are of a rounded, s-curve shape. The apron features scrolls that continue out from the central cartouche to the base of the feet, framing the club feet. The cabriole legs feature carved knees of cascading acanthus leaves.

The single door cabinets feature pulls of aluminum and celluloid. The sculptural hinges are of iron.

The carved rocaille crowns feature scrolled acanthus leaves.

The serpentine shaped top is inset with Portoro Limestone from Portovenere, Ligeria, Italy. The stone slabs show black with thin white calcite-filled veins and a few sinuous wider veins of calcite colored yellow by goethite.

2995

Click on the photo to learn more.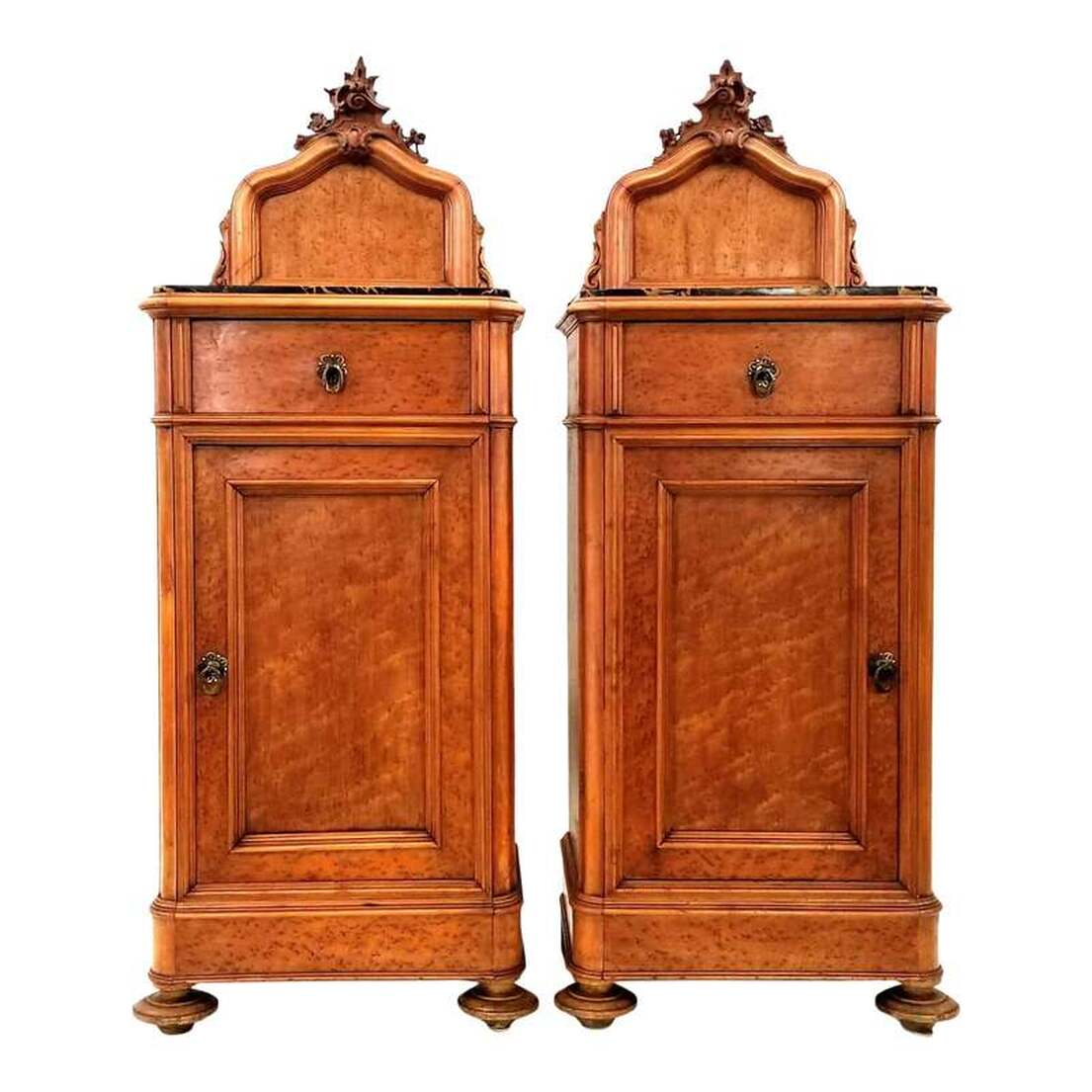 Somnoe | Pair | Northern Italy | 1830s-1870s

Antique pair of somnoe, or half commodes, are ideal for use as bedside cabinets or nightstands.

The pair was made in Northwestern Italy between the 1830s and the 1870s during the Rococo Revival period of the nineteenth century.

The nightstands are constructed of Birdseye Maple wood and trimmed with burled maple wood.

The nightstands are topped with Portoro limestone from Porto Venere, Ligeria, Italy ( also from La Spezia and Lerici on the Italian Riviera ), where it has been quarried sporadically since the 16th century and exported worldwide.

The limestone is black with white calcite filled veins and stylolites and sinuous wider veins and pods of yellow calcite colored by geothite ( iron hydroxide ).

Above the limestone tops are carved rocaille crests, reminiscent of the German muschelwerk, featuring scrolls and foliates. On either side of the crests are scroll and leaf supports.

The corners are rounded and the stiles are molded cyma curves, both popular features in France during the reign of Louis-Philippe ( 1830 - 1848 ).

The top drawers show hand cutting, planing, and dovetailing on the fronts and backs.

The bottom cabinet interiors each feature one shelf and are accessed by opening the inset panel single doors.

Under the bottom front are turned bun feet and under the back are bracket feet.

Click on image to learn more.

20" wide x 14.25" deep x 51" high

2995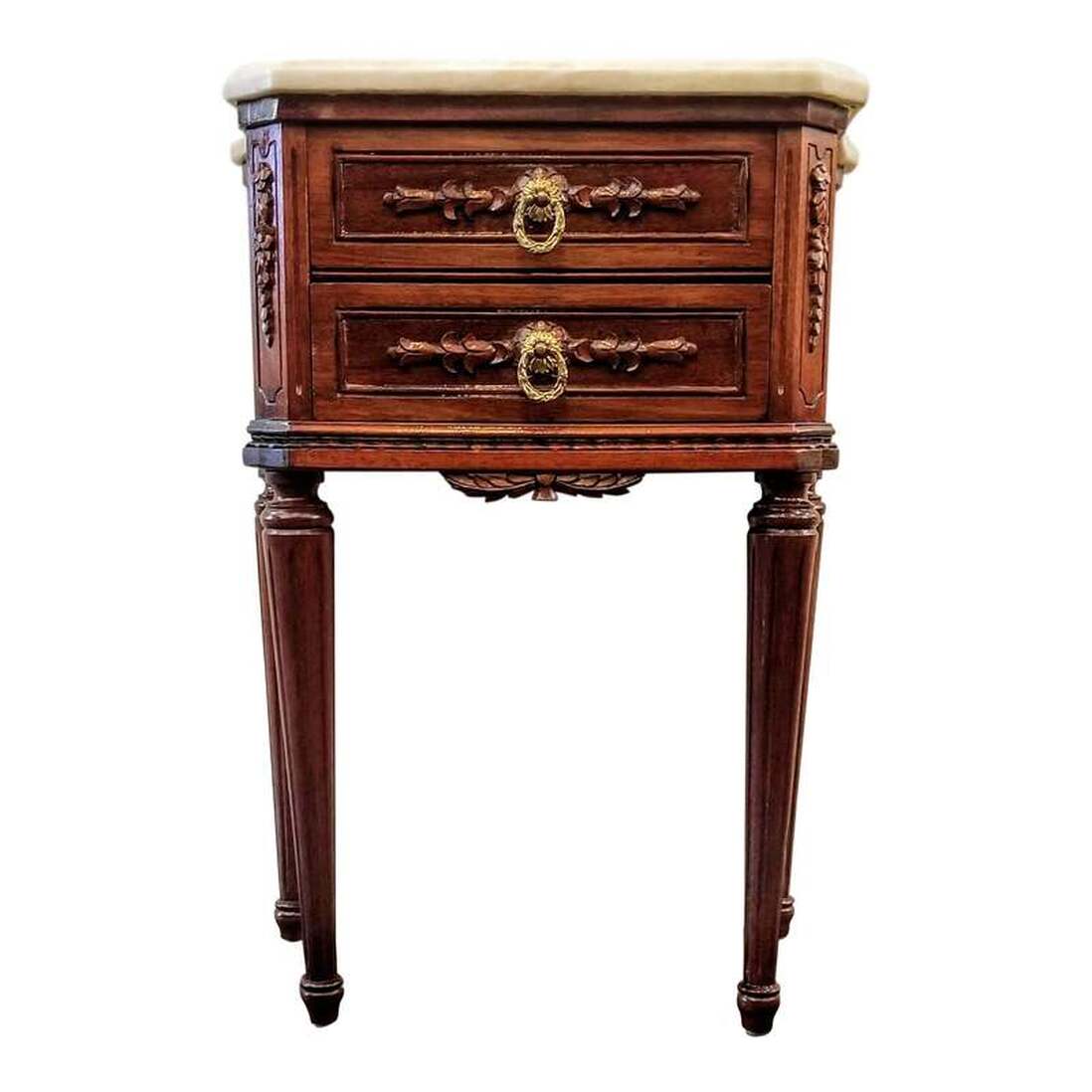 Louis XVI Style Cherry Wood Nightstand With Marble Top

Vintage cherry wood nightstand contains two small drawers with brass laurel leaf swag pulls under a marble top in beautiful shades of white, cream, yellow, grey, and black.

The carcase stands on fluted and tapered legs.

Executed in the French style of Louis XVI.

The stone top is Portasanta (Marmo Porta Santa, Marmor Jasense), a name commonly used for this marble as it was used for the door jambs of the Holy Door (Porta Santa) of St. Peter's Basilica in the Vatican. This is a rare example of the white ground.

19.5ʺW × 12.5ʺD × 26ʺH

695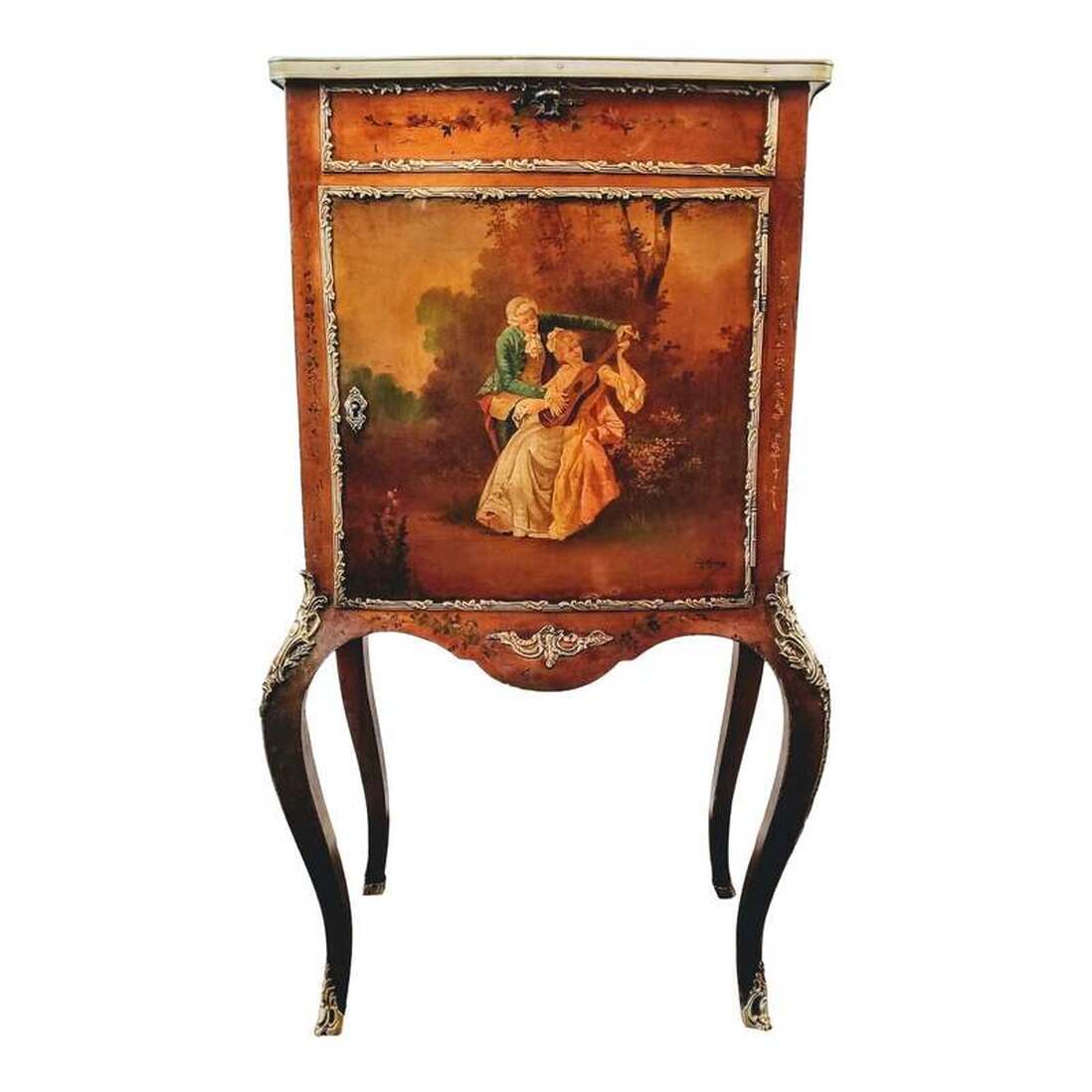 French Rococo Ormolu Vernis Martin Jewelry Vitrine Painted by Ch. Olivier

1885-1890s jewelry vitrine is decorated with Rococo scenes and flowers painted by Ch. Olivier.

The shaped top has a beveled glass insert set into a wood frame decorated with painted flowers.

The lid is hinged and opens to reveal a pink velvet lined interior in which to display your jewelry and romantic keepsakes.

A latch resembling a key turns to open and secure the lid and may be seen on the faux drawer front at top.

The locking cabinet door opens to reveal a wood interior with a single shelf for storage.

The painting on the front of the door showcases a young lady who appears to be receiving a guitar playing lesson.

The beveled glass insert, faux drawer, and painted door are all framed with gilt bronze trim.

Gilt bronze ormolu mounts protect the knees and feet of the cabriole legs.

The side panels are painted with florals at top and beautiful country scenes below. Both paintings are framed with gilt bronze trim.

The back is decorated with a painting of flowers framed at the top corners by leafy swags.

Vitrine has a faux craquelure over a vernis Martin finish.

23.25" wide x 16" deep x 40" high

6500