Architectural Salvage and Decor
Click on the photos to access more information about the items.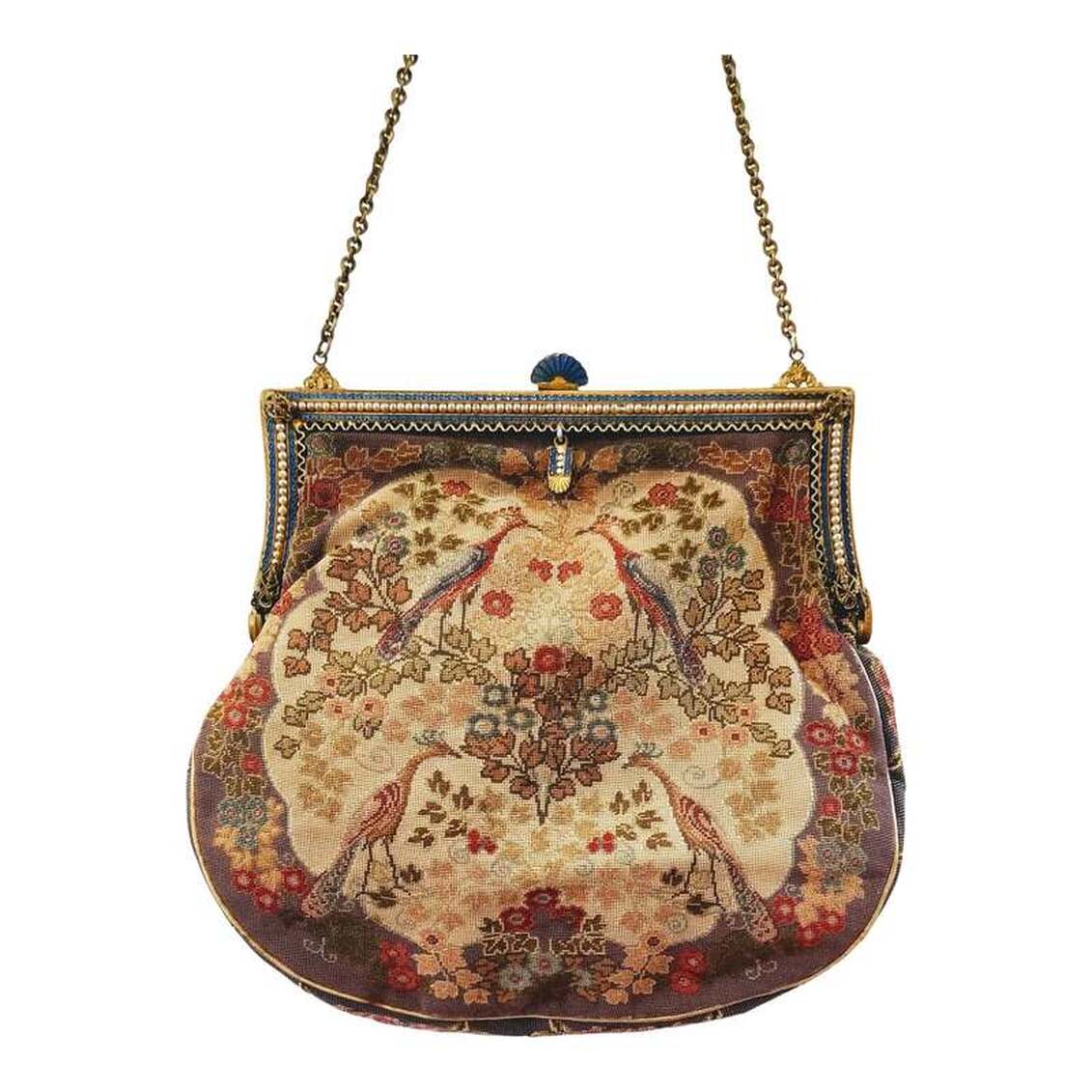 SOLD

Petit Point Handbag with Jeweled Frame | Austria | Circa 1910

Bag is constructed with petit point fabric on a jeweled vermeil frame featuring lapis enamel inlay and seed pearls with pendant. The frame is stamped with Classic scrolls and palmettes. The top latch is a lapis enamel inlaid palmette fan.

The fabric features images of peacocks, flowers, and leaves in tones of purple, taupe, beige, light blue, cornflower blue, dark blue, forest green, russet, sage green, red, blush pink, ivory, brown, rose pink, greige, and lilac.

Purse is trimmed on the exterior with gold silk cord piping along seams.

Petit point fabric is called such as it is created using 225 stiches per square centimeter.

7.5" wide 7.25" long 1" deep 15" from chain to bottom of bag.

Click on the photo to learn more.

225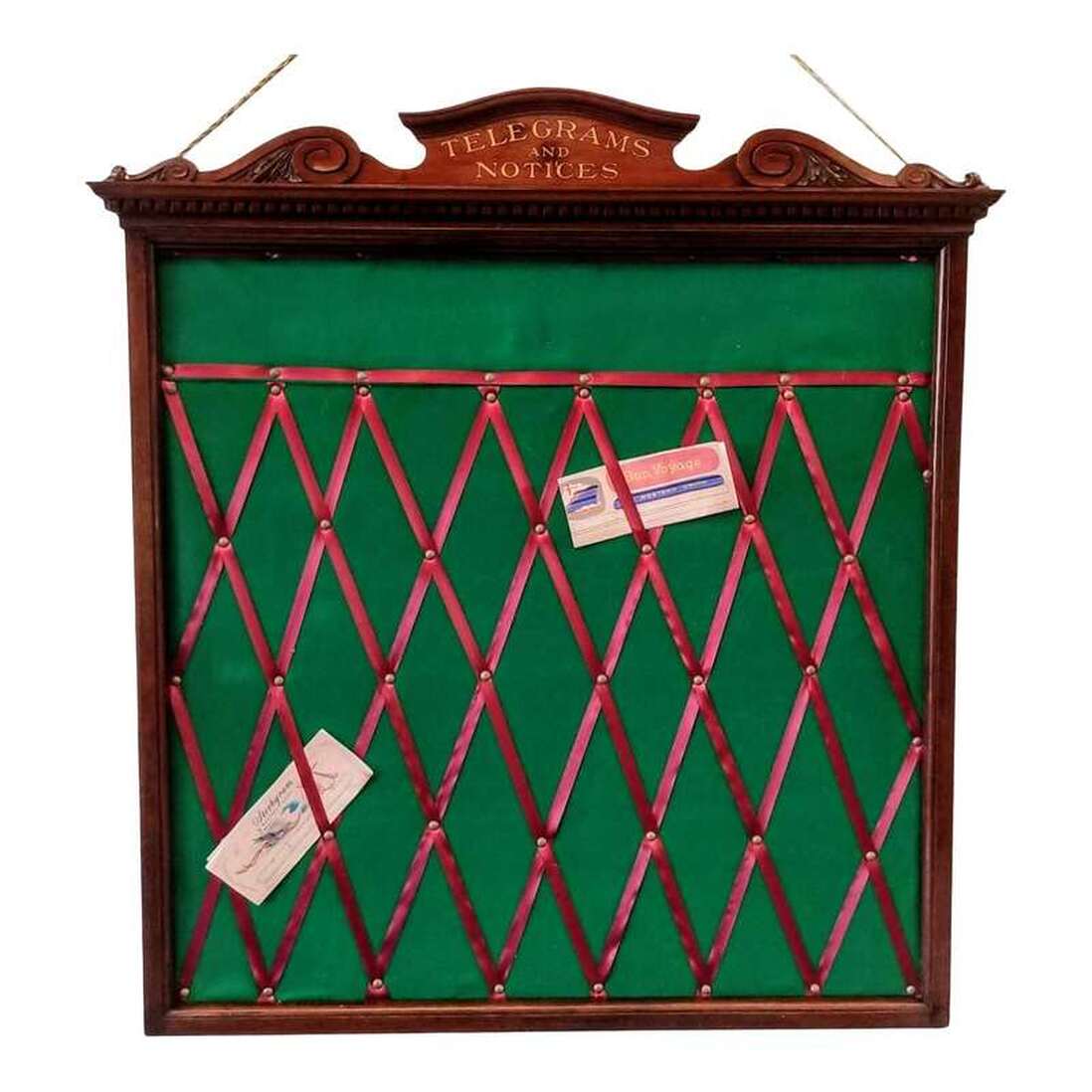 Telegrams and Notices Board | Late-Victorian England

Neoclassical style mahogany wood frame surrounds a center of new felt and ribbon. Under the bonnet top with scrolls and acanthus leaves is lettering spelling "Telegrams and Notices". At the bottom is painted, "This is the property of Mr. A. Vernon Ward".

Click on the photo to learn more.

38.5ʺW × 3ʺD × 41.5ʺH

995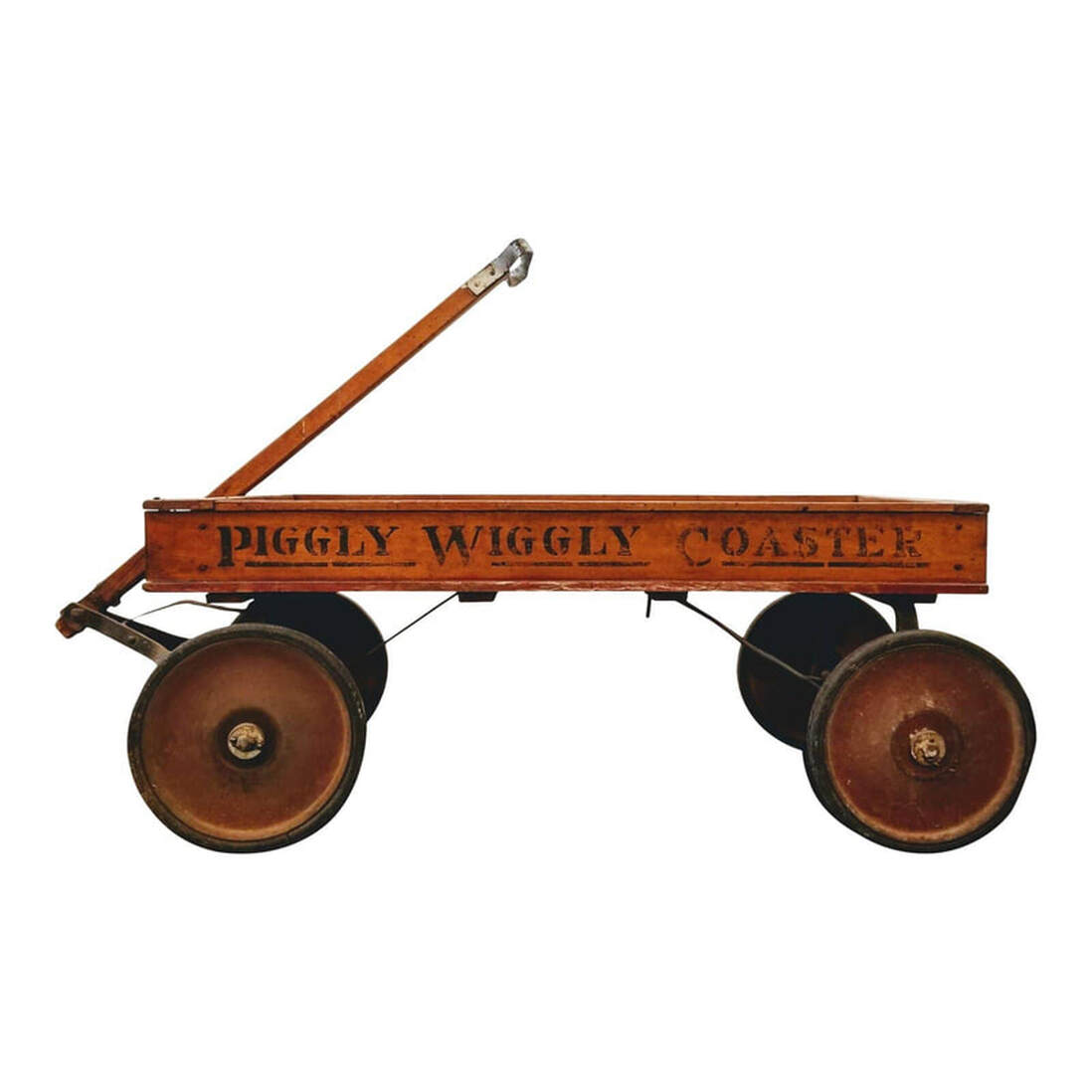 Piggly Wiggly Coaster Wagon | San Diego

What a cool piece of San Diego history this Piggly Wiggly Coaster is!

Piggly Wiggly first opened in San Diego in October 1922. In 1926 Jack Hartley opened one on 30th Street in North Park, followed by multiple stores including the one on Park Boulevard (now known as Sprouts), which is where this wagon was acquired.

The wooden wagon retains much of the faded red paint and the black hand painted lettering spelling out "PIGGLY WIGGLY COASTER" on each side.

The wagon is pulled by gripping the steel handle attached to a wooden rod.

The wagon is supported by a steel chassis and has faded red paint on the steel wheels and worn hard rubber tires.

Please note this wagon has seen some use and does show signs of it; however, it is sturdy, rolls smoothly, and is still useful.

Wagon measures 42" long ( 70" long including pull handle ) x 18.25" deep x 15" high ( 37.5" high with pull handle up ).

699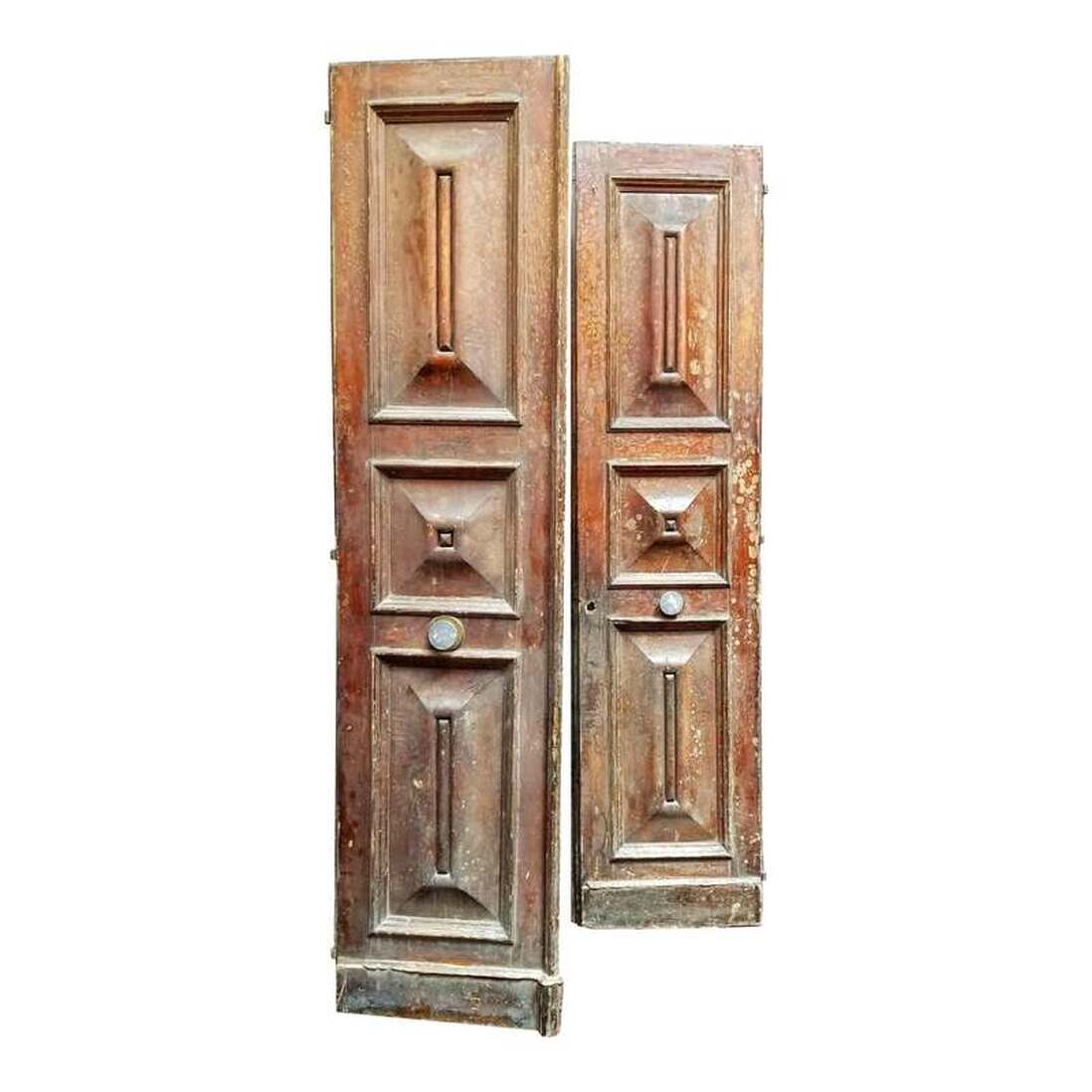 Nineteenth Century French Haussmannienne Double Panel Doors

Baron Georges-Eugène Haussmann was appointed by Napoleon III to conduct an urban renewal of Medieval Paris beginning in 1853. The work carried through 1927.

This pair of French oak panel doors date from the late-19th century.

One side shows the original red paint and zinc door pulls. The second side shows the original cream paint.

Click on the photo to learn more.

26ʺW × 4.25ʺD × 104.5ʺH

2995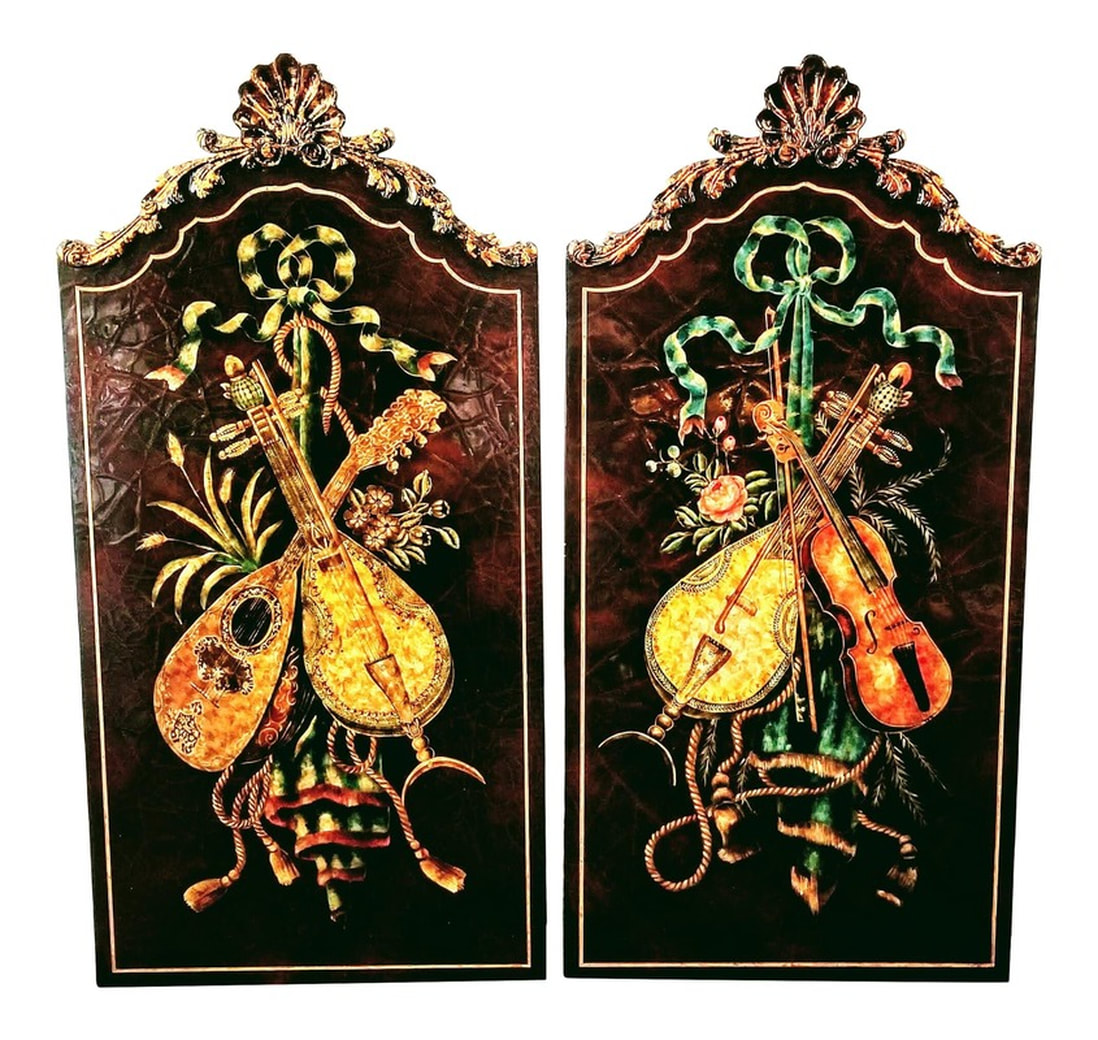 Decorative Wall Panels | Ottoman Baroque | Paul Maitland-Smith

Pair of Paul Maitland-Smith wall panels are in the Ottoman Baroque, or Rococo style, which was brought to Istanbul from Europe by Sultan Ahmed III at the beginning of the 18th century.

The fronts are finished with textured hand painted themes of green ribbons; pink roses and buds; flowers and foliage; gold cords and tassels; folded Turkey work fabrics; and representational instruments of Turkish and European classical music - tambur, violin, and spike fiddles.

The bonnet top is crowned with burnished gold Rocaille decoration including a clamshell and acanthus leaves.

Click on the above photo to learn more and to purchase.

30ʺW × 2.5ʺD × 60.5ʺH

1295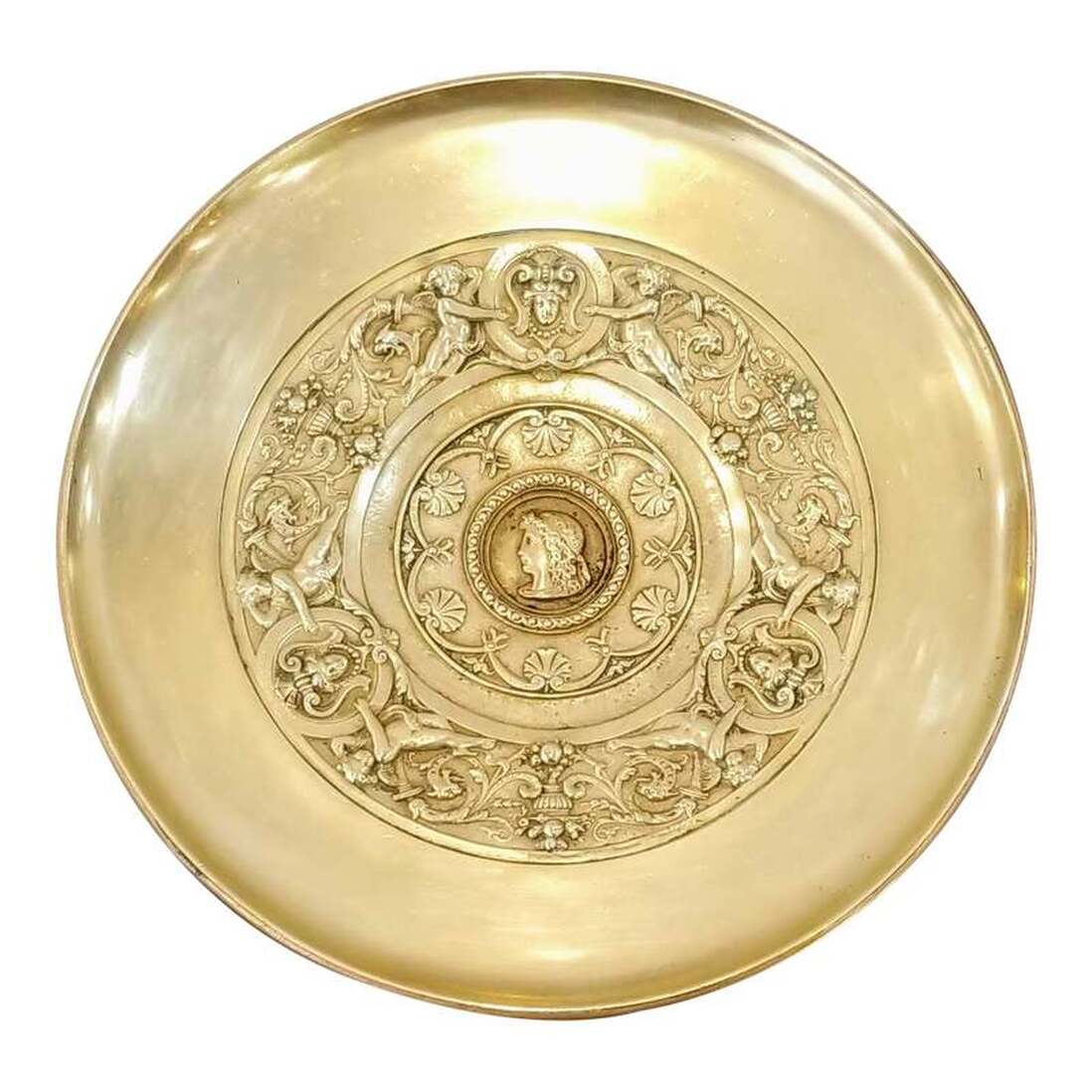 Edward C. Moore Tiffany & Co Makers Neo-Greek Doré Bronze Goddess Athena Tazza on Stand

Antique doré bronze footed tazza in the Greek Revival style popular from the 1830s throughout the 1860s.

The tazza is decorated with symbols of the Greek Goddess Athena. A profile of Athena is at center framed with a guilloche border and an outer anthemion border. The outer ring features three heads of Medusa upon aegises with pairs of cherubs. Classical motifs abound with acanthus leaf arabesques bursting from flaming torches and ending in dragon heads, urns overflowing with fruit, and the previously mentioned design elements.

The makers mark on the bottom of the foot indicates tazza is from Tiffany and Company, is pattern number 0101, order number 5958, and was crafted under the direction of Edward C. Moore as indicated by the style of the "M" included in the stamp.

To learn more, see further photos, and purchase, click on the above photos.

9.75ʺW × 9.75ʺD × 2.5ʺH

2500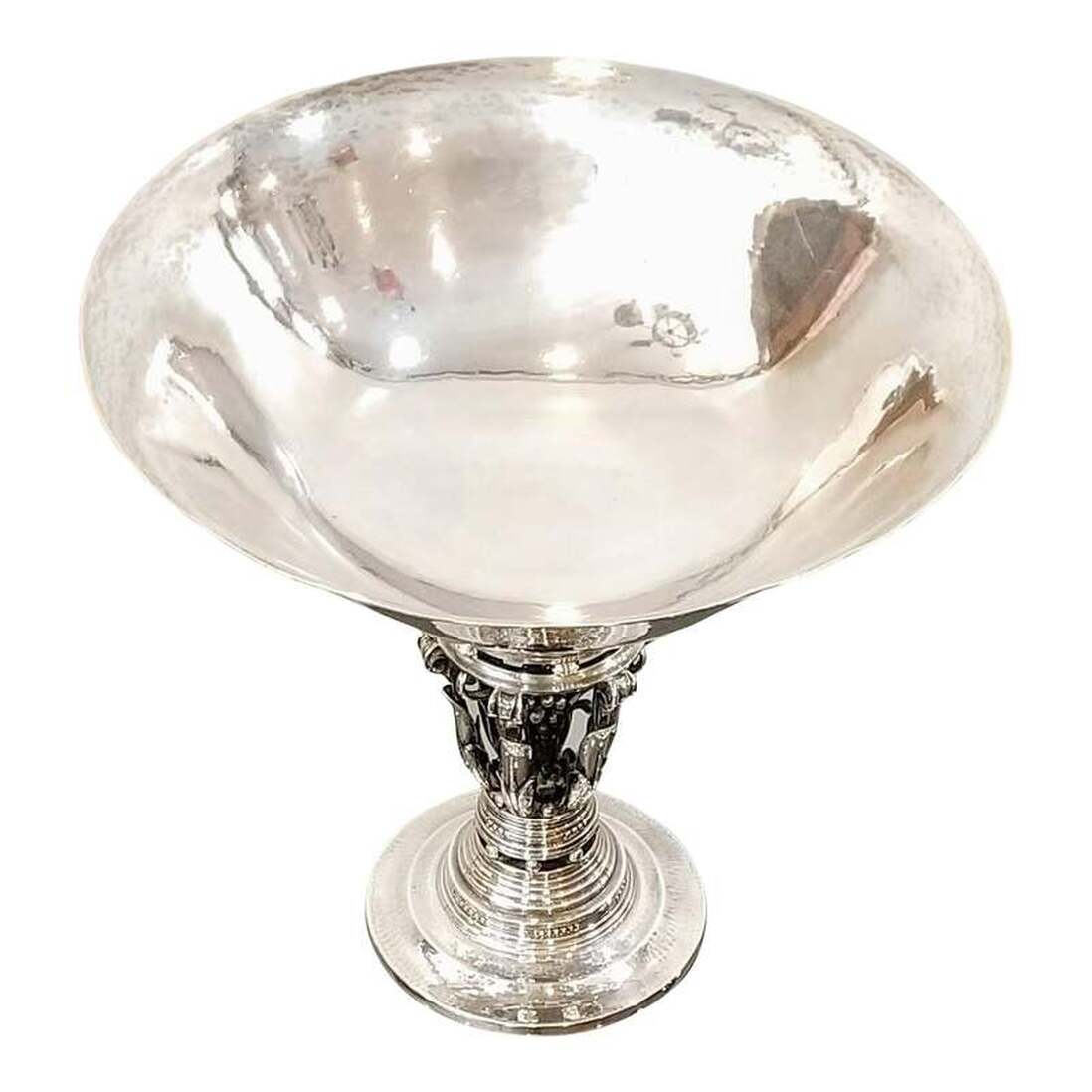 Johan Rohde for Georg Jensen Sterling Silver "Princess" Compote

Johan Rohde designed sterling silver compote crafted by Georg Jensen A/S ( Georg Jensen Sølvsmedie), Copenhagen, Denmark.

The Scandinavian Art Nouveau Danish Silver Centerpiece Pedestal Bowl known as The Princess Bowl was created as a complementary piece to the larger "Kings Bowl" and "Queens Bowl" designed by Rohde in 1917.

The bowl shows a hammered surface with everted rim raised on a stem with a central floral finial surrounded by openwork scrolled leaves and beading, the whole raised on a circular stepped base also showing a hammered surface.

The following maker's marks are stamped underneath the base :

The Johan Rohde mark at top, "STERLING", the "252" model number, "DENMARK", the Georg Jensen crown mark ( used 1925-1932 ), and the "G.I. .925 Sterling" mark ( used 1915-1930 )

Centerpiece measures 9" high and 10.25" in diameter.

This footed bowl is pictured on page 52 in the book "George Jensen : Scandinavian Design For Living" published by The Art Institute of Chicago.

22000

To learn more, view further photos, and purchase, click on the above photo.