​Chairs and Seating
​Click on the images to access more information about the items.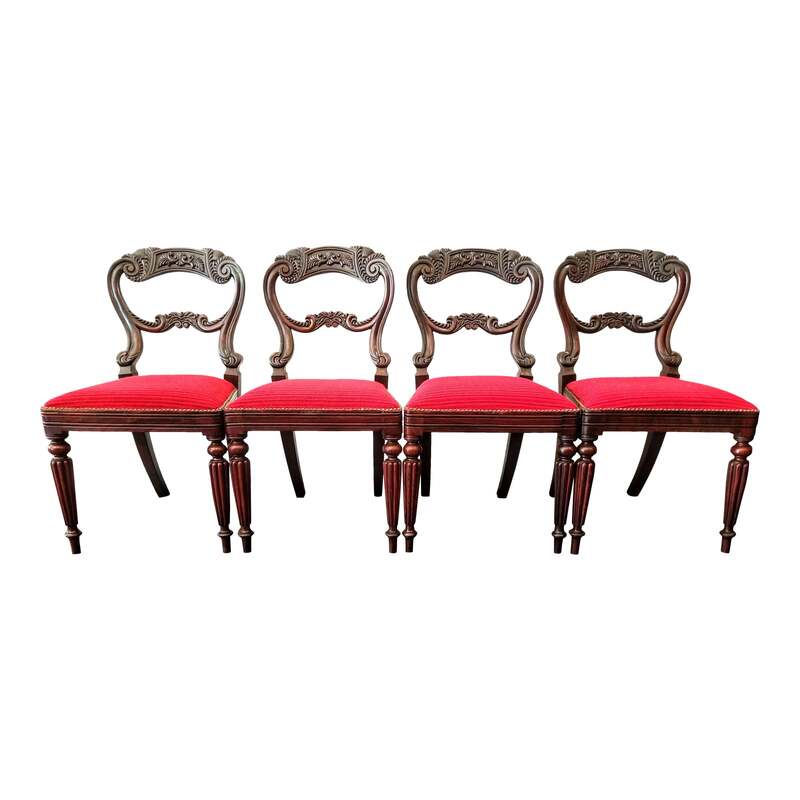 Set of Four Antique Rosewood Chairs Attr. to Gillows of Lancaster

1821-1839

18.5ʺW × 21ʺD × 33ʺH

3699 / SET

Set of four waisted open balloon back chairs numbered III, V, VIIII, and X, indicating these were once part of a set of 10 to 20 chairs.

Gillow & Co. created large chair sets for their upscale clients in Lancaster.

The style of the chairs is inspired by both the hot air balloon flight of the Montgolfier brothers in 1783, which led to the creation of a "Montgolfier" or "balloon back" chair design, and Grecian design elements, as can be seen here by the addition of volutes (scrolls) to the top rails.

The seats were originally hand-caned. The remnants of this process may be seen under the upholstered drop-in seats, which represent the later trend of adding fabric covered seats over, or in place of, caned seats on this style of chair.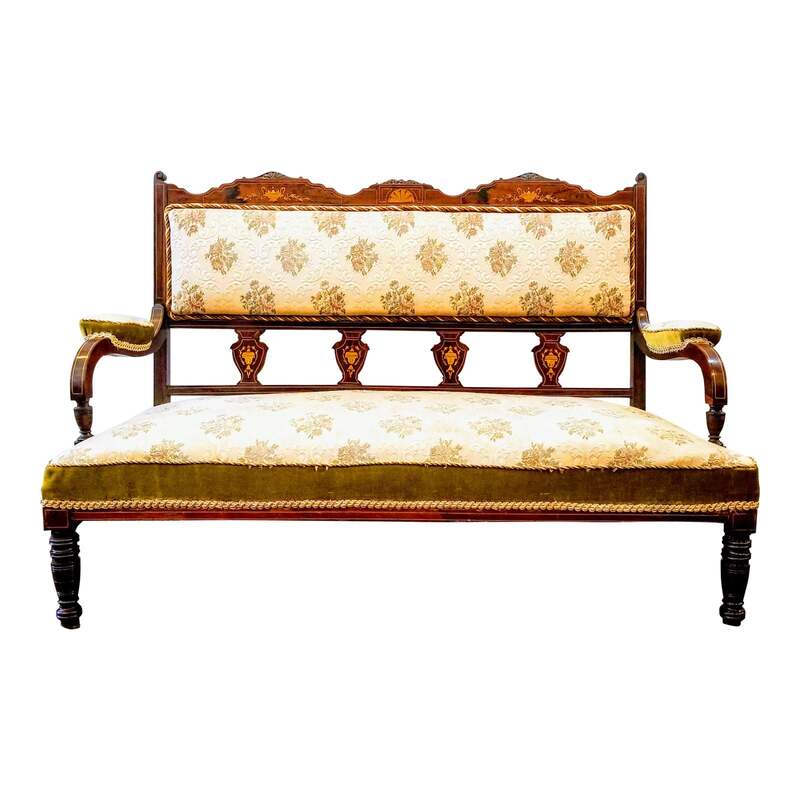 English Edwardian Adam Style Marquetry Salon Settee

Settee is decorated with marquetry Neoclassical urns, flower baskets, and fan.

The vegetable dyed satinwood forms are inlaid in the rosewood frame.

Inlaid brass banding provides further interest.

The frame features scroll ears and turned legs with decorative casters.

The arms feature upholstered elbow pads.

Settee is upholstered in a floral tapestry fabric in pinks, greens, blues, and creams that is trimmed with green velveteen and edged with colorful braided cord.

48ʺW × 25ʺD × 34ʺH

995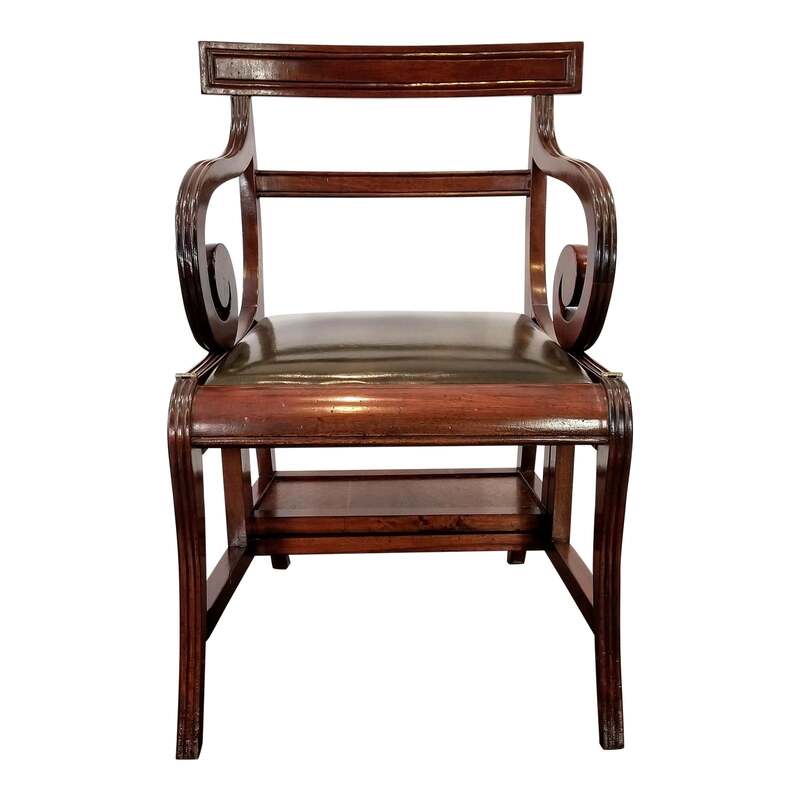 English Regency Style Metamorphic Library Chair / Steps

Mahogany and Embossed Green Leather

Thomas Sheraton style metamorphose library armchair with green leather seat transforms into library steps inset with gold arabesque embossed edge green leather.

The mahogany chair features reeded voluted ams and sabre legs, a plain front seat rail, and curved back.

The structure is hinged to convert from chair into library ladder.

21.5ʺW × 25ʺD × 35ʺH

2395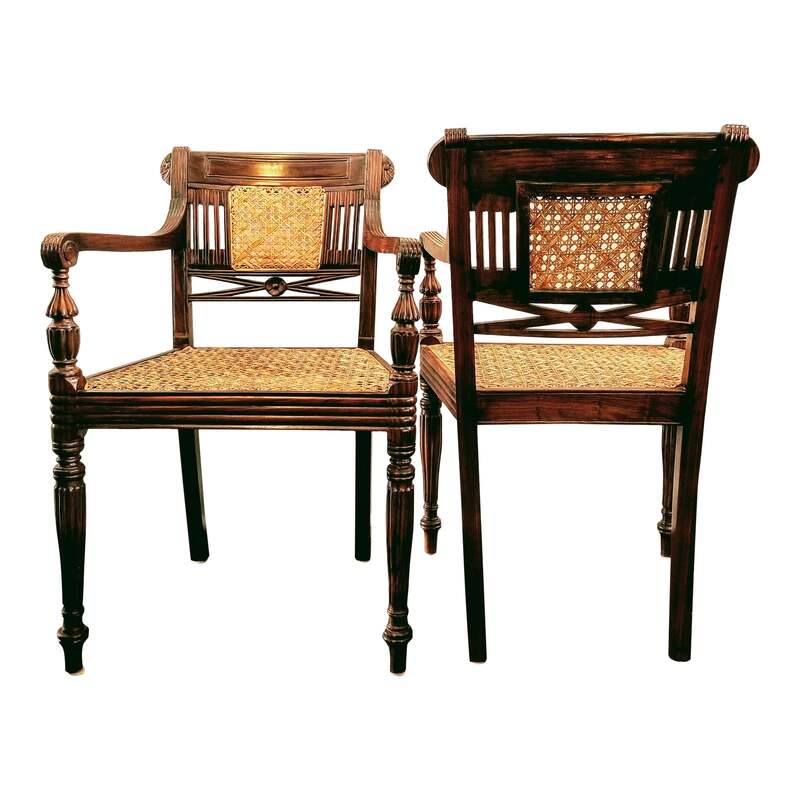 Pair Sheraton Regency Style Hand-Caned and Carved Indonesian Rosewood Raffles Armchairs

Pair of classic Raffles style armchairs, hand carved and hand caned in Indonesia, likely Jepara, where much work of this type is done, in the 19th century.

The rosewood carvings are in the expected patterns associated with these types of British Colonial chairs, which are modified from the Regency and Sheraton styles: ridged grooves, turns, simple lines, and scroll ornaments.

The Raffles chair name is an attribution to General Sir Thomas Stamford Bingley Raffles, founder of modern Singapore and former Lieutenant Governor of Java. The style came into use during his years of occupation there in the early 19th century from a design out of former British Colony Ceylon, now Sri Lanka.

SIZE:

22" wide
18" deep
33.25" high
18" floor to seat
18" wide seat at front
14" wide seat at back
17.5" seat depth
27" floor to top of arm
9.25" seat to top of arm

2499