Bookcases, Display Cases, Vitrines, Curio Cabinets, China Cabinets
​Click on the photos to access more information about the items.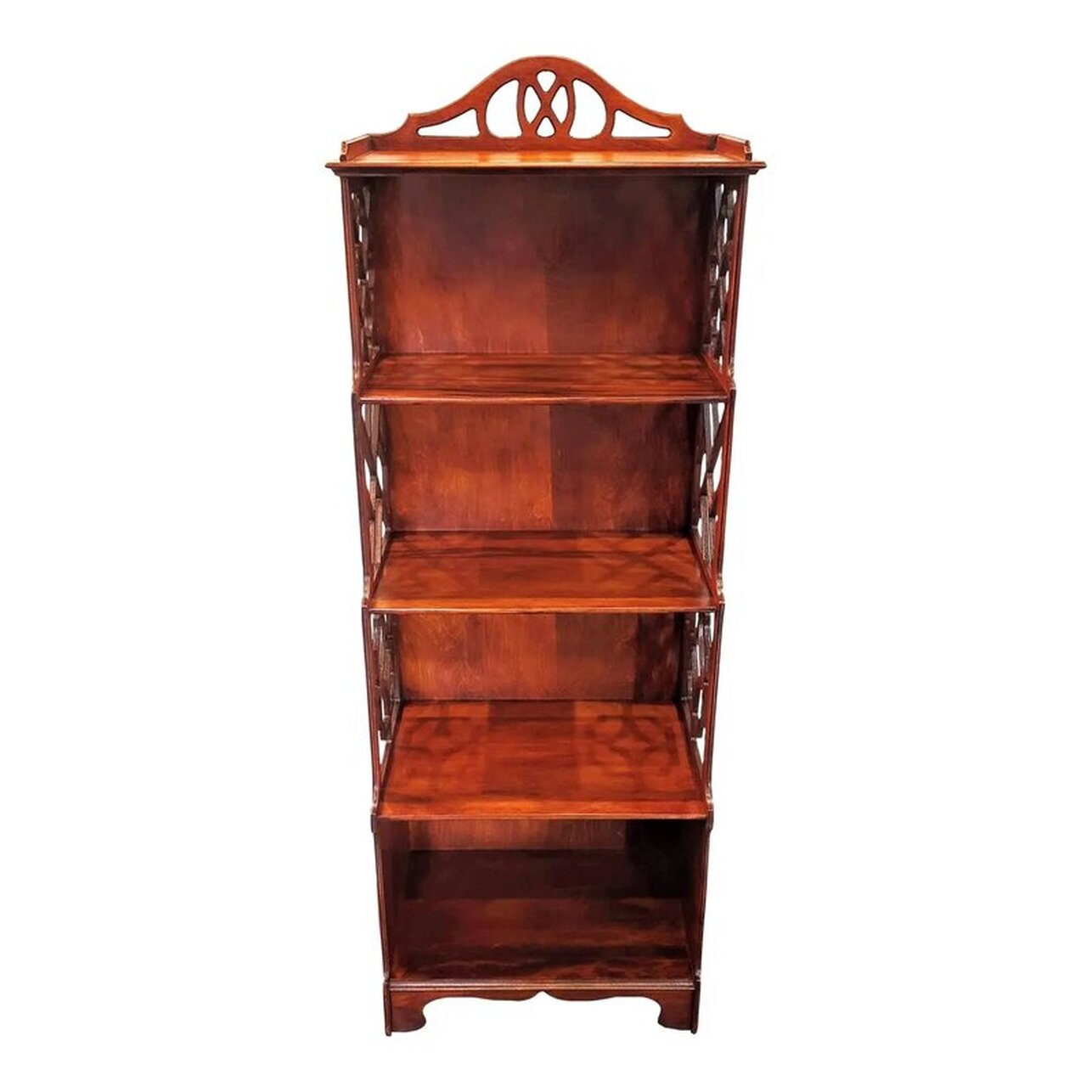 Étagère \ Bookcase | Butler Specialty Company | Chicago, Illinois | post-1940

Five-shelf free-standing Étagère was manufactured by the Butler Specialty Company of Chicago, Illinois.

The sides and top are enhanced with Chinese Chippendale style fretwork.

The shelving unit stands atop ogee feet connected by a curved apron.

The back is marked with the Butler brand and "Style #616".

Click on the photo above to learn more.

19ʺW × 12ʺD × 49.75ʺH

995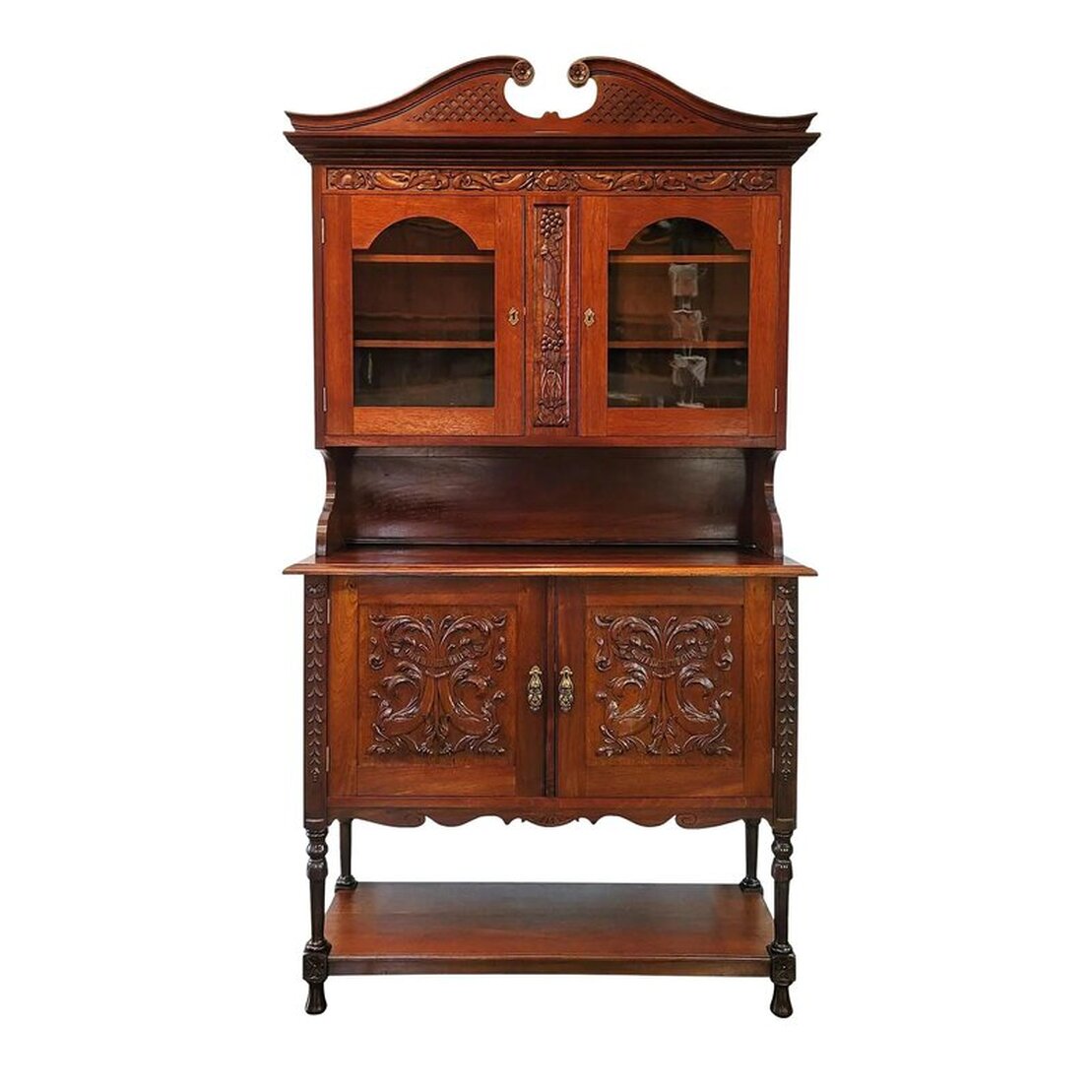 Cabinet on Cabinet | Wales | 1842-1856

Solid walnut wood Georgian Welsh style cupboard on cabinet embellished with Neoclassical under the sea motifs of dolphins and shells is a fine example of upscale English Cottage furniture showing the Flemish influence on the vernacular furniture of South Wales.

The molded crown is a sweeping broken swan's-neck pediment suggesting waves. The scrolls feature carved flower medallions. The front of the crown features relief carved fretwork.

The frieze below the crown is bas-relief carved with dolphins and scallop half-shells with pearls.

The upper vitrine is fitted with two removable wooden shelves and is fronted with two glazed doors. The wavy glass panes are square framed with a cyma curved top. The doors have solid brass locks applied to the interior and brass keyhole escutcheons in a scalloped Dutch style.

The divider between the doors is bas-relief carved with acanthus stems and flowers sprouting from acanthus leaves and bundled with pleated ribbon.

The upper side supports curve in just above the top of the lower cabinet.

The backboard is plain with molded trim at bottom edge where it meets the top.

The work top is flat with a molded edge.

The lower cabinet is fitted with one fixed half-shelf and is fronted with two doors featuring inset panels bas-relief carved with dolphin pairs. The dolphins are classically presented with heads down and tails up. The fins and tails extend into foliated scrolls. The tails are tied together with pleated ribbon. The doors do lock via solid brass locks applied to the interiors. The keyhole escutcheons are a repoussé brass with a stylized dolphin motif reflecting the cabinet theming. The door pulls attached to the escutcheons are a molded brass open drop style.

The cabinet apron features a curvaceously carved bottom edge with scrolls and a fan carved into the front.

The lower cabinet side panels are plain with stylized s-curve aprons.

The lower cabinet supports are bas-relief carved with half-flower motifs over long inverted acanthus stem pendants.

A low shelf rests in between legs turned and ringed over blocks fronted with acanthus flower ornament.

The feet are a turned wood elongated bun or ball style.

The back is paneled in oak and walnut woods.

43.5" wide x 15.75" deep x 78" high

2495

Click on the image above to learn more and to view further photos.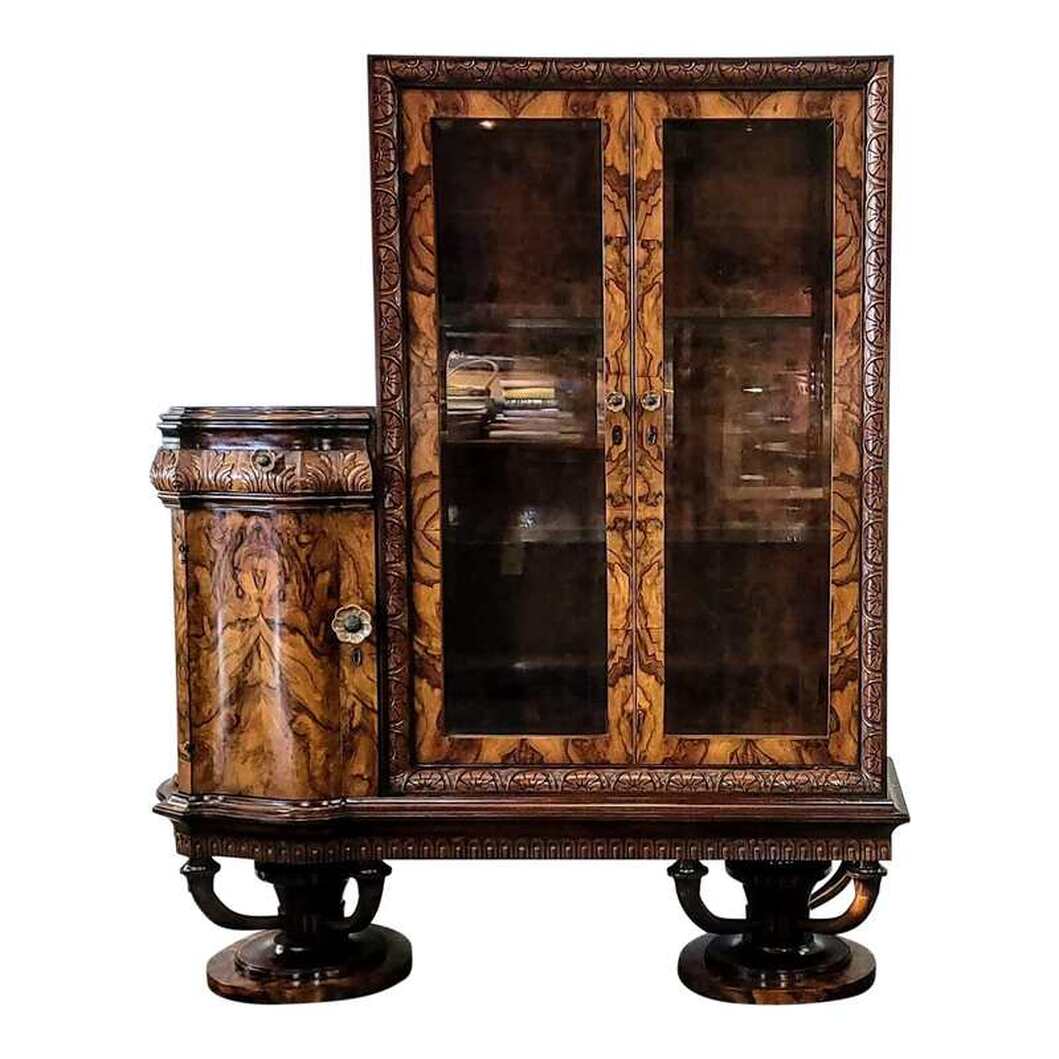 Vitrine | Venetian Art Deco | 1920s | Olive Wood | Italy

Vintage 1920s Italian Art Deco vitrine with attached storage drawer and cabinet veneered with matched burl figured olive wood and trimmed with walnut wood. The piece is well-built and finished with shellac.

The large glazed display cabinet is placed to the right of a shaped cabinet with a storage drawer at top.

Representative of furniture made in Venice, Italy, this combination piece is the perfect blend of Art Deco and Venetian Baroque and will complement either interior style.

Click on the image above to learn more and to view further photos.

57ʺW × 18ʺD × 65.25ʺH

8995