Armoires, Wardrobes, Hall Closets, Linen Presses
Click on the photos to access more information about the items.
SOLD
Circa 1920s Arighi, Bianchi & Co. Verithing Mahogany Compactum Gentleman's Wardrobe
The Verithing Furniture compactum gentleman's wardrobe dates to circa the 1920s. These fitted clothing cabinets for men and women were popular from about 1910 into the 1930s for host and guest room use in finer homes.

The clothing cabinet is fitted with drawers, racks, shelves, and cabinets in the manner of the Compactom chiffonieres by Bovis, Ltd. in London and the chifforobes by Piedmont Red Cedar Chest Company in North Carolina.

Under the inset flat top with molded crown are two doors constructed of figured mahogany wood framed panels embellished with pierced brass keyhole escutcheons on which hang chased brass drop pulls. The brass is marked "BL&S 7800" for Benjamin Lilly and Sons brass foundry, Birmingham (founded 1861). The doors do lock via a brass lock and a key is provided.

Inside the right door is a paper furniture label reading, "The Verithing"; a mirror; a rack for hair and clothing brushes and combs; a rack for towels, ties, and strait razor strop; and a label from Arighi, Bianchi & Co famous retail shop.

Inside the left door is a tie and belt rack and a radial trouser rack.

Inside the case is a clothing bar at top left and a shoe rack and "Shoes" label below.

To the right are three top shelves for "Spares", "Hats", and "Pyjamas"; three smaller drawers for "Hankerchiefs", "BLANK", and "Gloves"; two medium drawers for "Collars" and "Socks"; a glazed fall-front cabinet for "Dress Shirts"; and three larger drawers, one for "Fancy Shirts" and two for "Underwear".

The oak wood interior is well built and the drawers and cabinet door operate smoothly.

Under the bottom molded edge is a straight apron and corner blocks over turned feet.

Mounts are made of brass and satin finish chromed metal.

The labels are made of celluloid.

43.75" wide x 20.75" deep x 74" high

3995

Click on either of the above images to learn more and to view further photos.​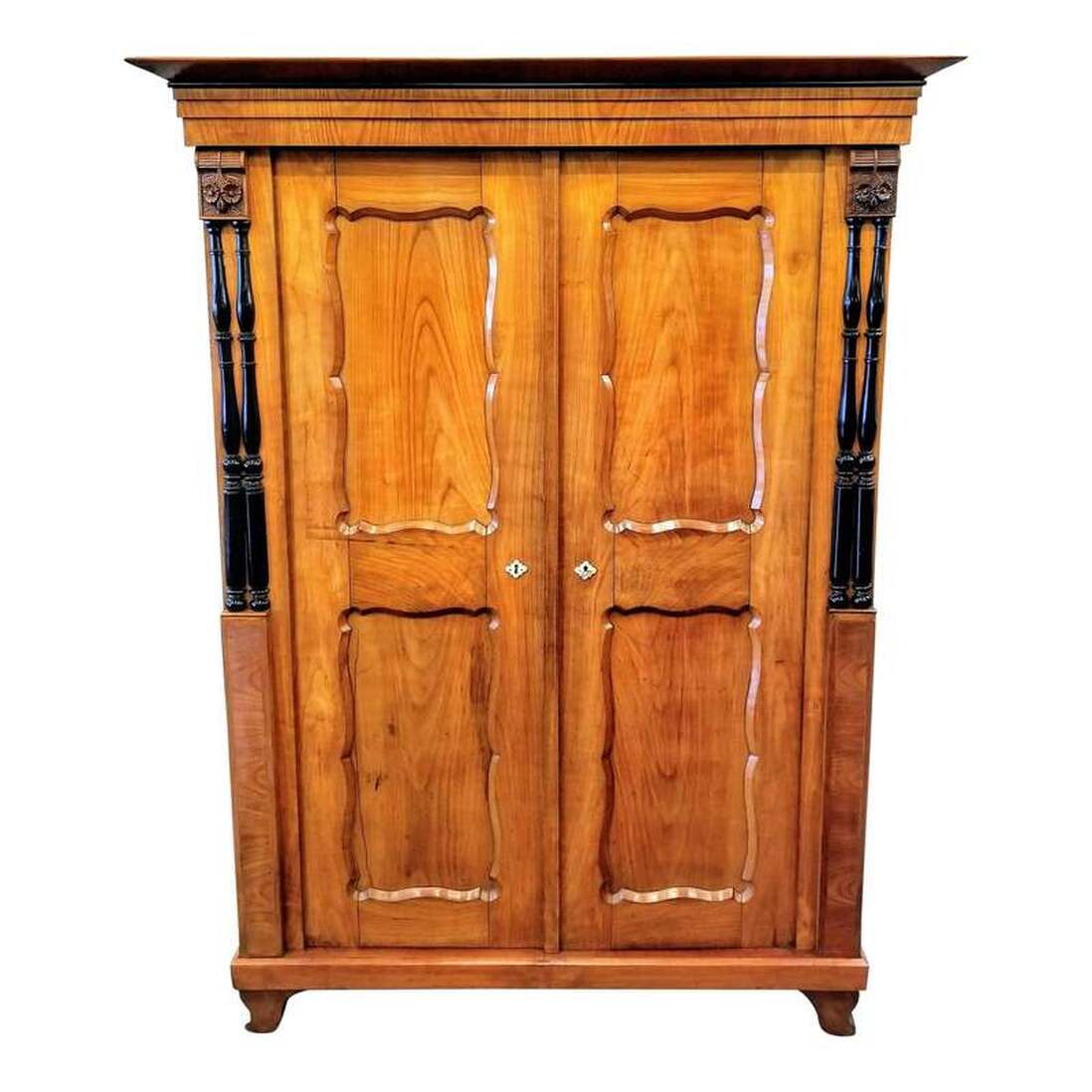 Biedermeier Cherry Armoire | Austria | 1815-1848

Hand-planed cherry wood, carved bone key escutcheons, central stringing inlay, ebonized balusters, carved floral applications.

The interior features two dual-plank adjustable shelves under which is a drawer.

57" wide x 24" deep x 79" high

4995

Click on photo above to email about purchasing.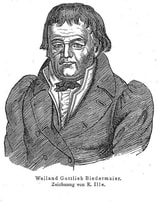 ​
Biedermeier style linen press and wardrobe from circa the 1830s is constructed of hand-planed cherry wood. Adding interest are two carved bone key escutcheons, central stringing inlay, ebonized balusters, and carved floral pendant applications.
The interior features two dual-plank adjustable shelves under which is a drawer. The drawer pulls have been replaced with newer drop pulls. Four wooden hanging pegs are installed in the back at left. Two hand-crafted brackets for a dowel are present. A dowel may be installed for hanging clothing. Per buyer request we can add a rod.
Wood plugs for construction may be seen on the sides.
Cabinet comes with a key.
Biedermeier is an Austrian style in vogue from 1815 through 1848. Biedermeier furniture was crafted in Germany, Austria, the Netherlands, Romania, Scandinavia, Russia, and, later, Vienna, where it experienced a late 19th and early 20th century revival throughout the Austro-Hungarian Empire.
Biedermeier design was inspired by the lines of George III and the French Empire style of Napoleon I; however, these interpretations were simplified, yet still elegant, and adapted to suit modern middle class early-XIX-century households.
Woods available locally, such as cherry, ash, elm, walnut, pear, aspen, and oak, were used as they were readily available and less expensive than imported mahogany, although examples in African mahogany were produced.
Biedermeier design idealized truth through materials which influenced the later design movements of Arts & Crafts, Bauhaus, Art Deco, Vienna Secession, Jugendstil, and Postmodernism.
The name Biedermeier appeared in 1847, at the end of the first reign of the style, and after the publication of the poem "Herr Biedermeier" by Ludwig Pfau.In 1848 the poet Joseph Victor von Sheffel published two poems, "Biedermann's Evening Coziness" and "Bummelmeier's Complaints", in THE FLYING LEAFLETS in Munich. By combining these names, the poet Ludwig Eichrodt created the pseudonym "Gottlieb Biedermeier" and in 1850 published the poem "Biedermeier" in THE FLYING LEAFLETS. In 1869, together with Adolf Kussmaul (Physician Carl Philipp Adolf Konrad Kußmaul) (under the same pseudonym) published a cycle of poems titled "Biedermeiers Liederlust". The collection contained poetic parodies of the poetry of the real rural teacher and poet Samuel Friedrich Sauter. ( Nina Kazhar 2019 IOP Conf. Ser.: Mater. Sci. Eng. 603 022090 )
The fictional Gottlieb Biedermeier was a cartoon character named Papa Biedermeier (as Weiland Gottlieb Biedermaier) featured in the German publication FLIEGENDE BLATTER. It is due to the regular appearance of this character in the publication that the years 1815-1848 were dubbed the Biedermeier Era. Papa Biedermeier was a comic symbol of middle-class comfort and the Biedermeier period came to be characterized by rigorous simplicity.
"Biedermeier" stems from "Biedermann" (or Biderman = city dweller), which signifies an "honest, upright, law-abiding, commonplace and bourgeois citizen, devoid of imagination, taste, artistic perception or ideals; inclined to be heavy and 'lumpish in his wits'..., but with an amiable regard for 'pretty things'; a thoroughly domestic, home and comfort-loving body with a predilection for carpet slippers and a smoking jacket of an evening, and an easy arm chair beside a centre table with a glowing lamp. A 'Biedermeier' was a 'Biedermann' whose vanity and awakened sensibilities had prompted him to affect a dilettante pose as a connoisseur in matters of art and music and, perhaps, to essay some efforts at decoration with his own hand - a finicky, comic, self-satisfied, fairly stupid and pompous personification, fit to be the butt for shafts of wit or caustic ridicule." ( Quote courtesy of GOOD FURNITURE AND DECORATION, VOLUMES 7-8, January 1, 1916 )
This Biedermeier wardrobe will complement interiors featuring elements of George III, Franconian, Empire, American Empire, Baroque, Zopf, Karl Johan, and Late Classicism.
Exterior measurements:
79" high
57" wide at crown
2' deep at crown
Interior measurements:
48.75" wide
17" deep
60" high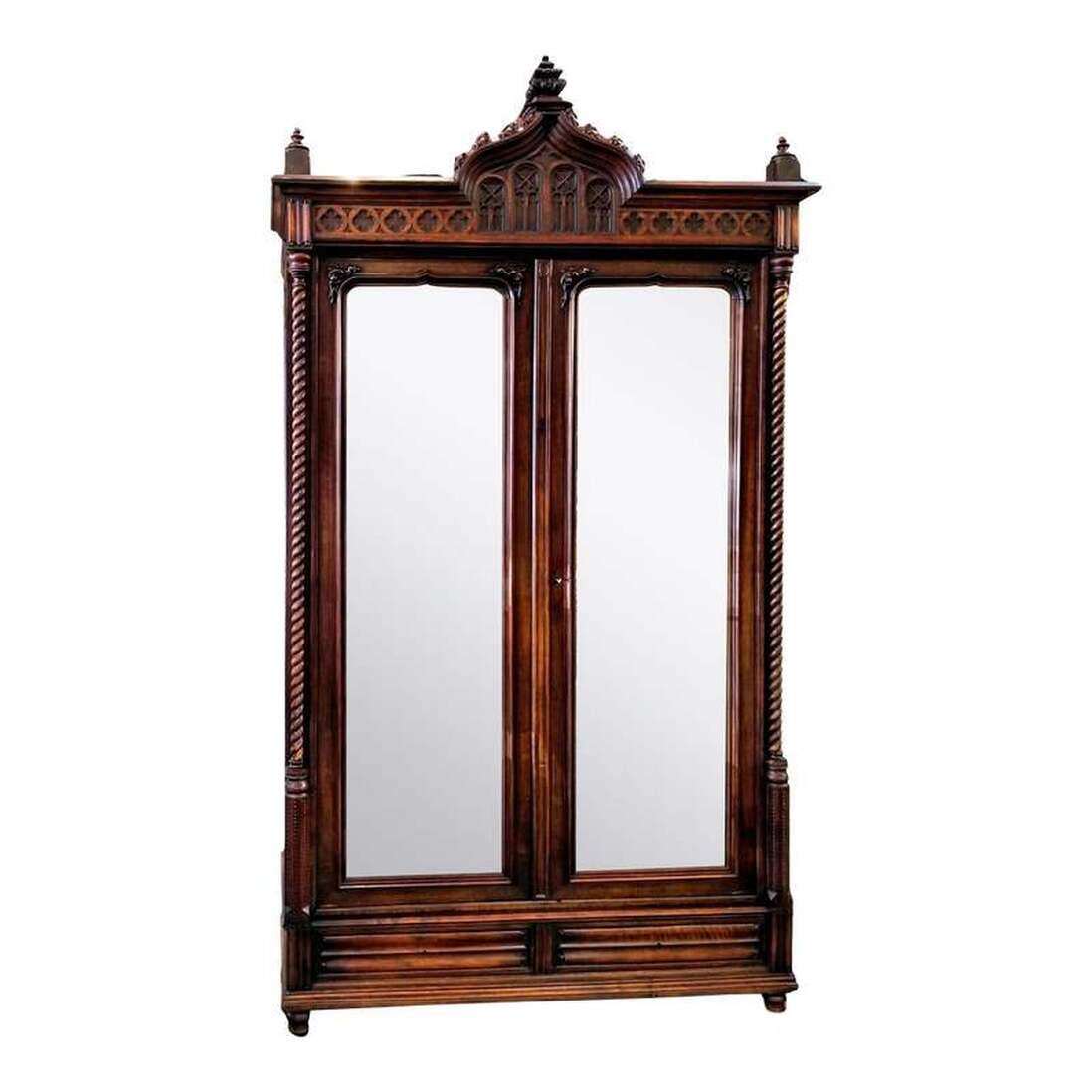 SOLD

1896 Maison Antoine Bastet, Lyon, Walnut French Gothic Mirrored Armoire

Late-Victorian ( 1896 ) armoire / wardrobe / linen press in the French Gothic style. Built by Maison Antoine Bastet of Lyon ( ébéniste et fabricant de meubles 1864-1935 ).

The House was originally established in 1845 by Andre Bastet, furniture merchant.

Antoine Bastet was a furniture maker in Lyon, France who also invented an adjustable mirror ( 1883-1905 ) and a support bra for railway travelers ( 25 April, 1902 ).

The armoire is made from walnut wood.

The decoration includes trefoils and quatrefoils on the frieze of the bonnet; sugar barley twist balusters; turned and carved finials at top; linen folds on base ends and drawer fronts; shaped front feet and block back feet; rocaille applications on bonnet and at mirror corners; flambe shapes; and beveled and shaped mirrors.

The two doors lock via a brass latch. The base drawers lock as well.

The interior has two adjustable shelves and two drawers at bottom.

The back of the armoire retains part of the original furniture label.

The back of the original mirroring was stamped with "HS & Co. 1896".

Click on the photo to learn more.

60" wide x 22.5" deep x 107" high

6995