​Furniture Suites
Click on the images to access more information about the items.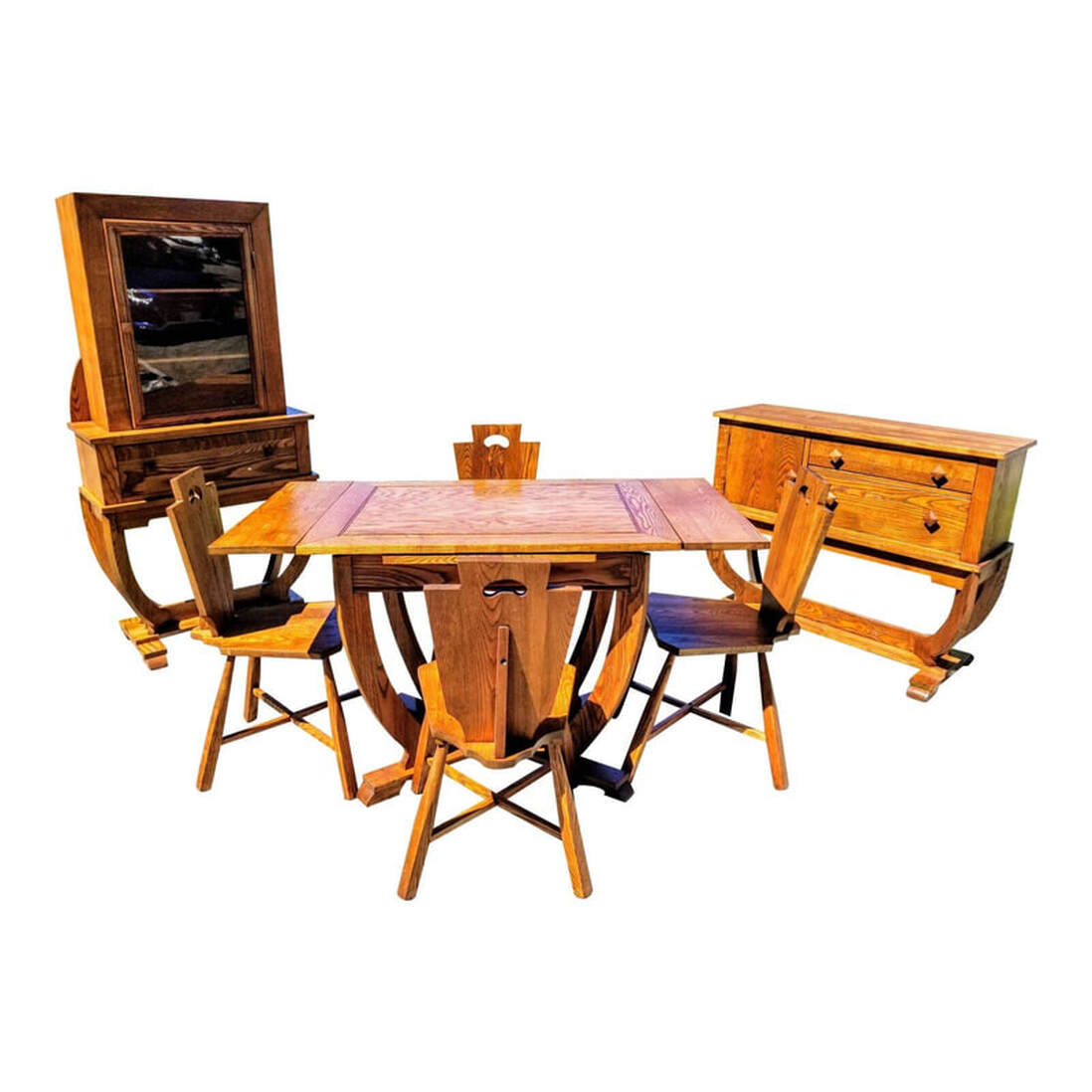 Suite SOLD.

Post-1923 American Oak, Provincial Revivalism, Art Deco, Storybook Style Dining Suite

The silent movies and animated features of the 1920s and 1930s gave rise to a Hollywoodland design aesthetic that came to be known as Provincial Revivalism.

This style incorporated Storybook and Fairy Tale elements in architecture and furnishings. The most well known example is the Spadena House in Beverly Hills, more commonly recognized as "The Witch's House".

The style became popular in England and the United States of America in the 1920s, which is the period in which this dining suite was manufactured in America, as can be ascertained by the blend of Art Deco and Provincial Revivalism in the design.

This modern take on the old-world village haus style streamlines the "Gingerbread House in Bavaria" details for everyday living. You can see the design is simple, but retains a sense of playfulness and whimsy. One can particularly see the Hansel and Gretel influence in the chairs which appear as though they were purchased at an estate sale at Geppetto's house from "Pinocchio". The same aesthetic may be found in the Dwarfs house where Snow White took refuge.

We do not know which furniture company produced this range, but we do know from the back stamps that the line was called "Moderne Green". Originally the pieces were finished with a green stain, which did not look good. We refinished these pieces to expose the natural beauty of the wood.

Note that this suite has slightly smaller proportions than a standard dining suite.

The Buffet measures 40" wide x 17" deep x 34.25" high.

The China Hutch measures 31" wide x 17.25" deep x 64" high.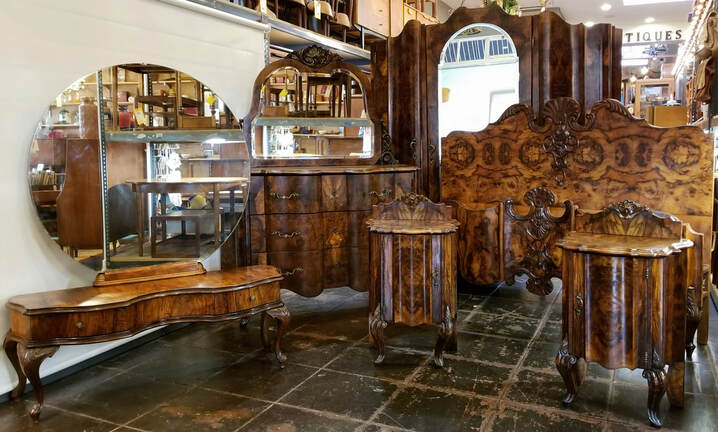 Italian Olive Wood Neo-Rococo Venetian Baroque Six Piece Bedroom Suite

Scarce and stunning six-piece bedroom suite in the Italian Neo-Rococo / Venetian Baroque styles popular throughout Europe in the mid-to-late 19th century.

This suite is made with Italian burled olive wood veneers, except for the dressing table constructed with burled walnut veneers.

We attribute the manufacture of these furniture pieces to Fratelli Testolini; also known as the Testolini Brothers, Testolini Venise, and Testolini Freres Muebles; of Venice, Italy.

Fratelli Testolini was founded by two Italian brothers and became the most highly regarded manufacturers for nearly a century of art furniture, wood carvings, mosaics, marbles, jewellery, Murano art glass, and table glass.

After the deaths of the founders, two cousins inherited the business. One did not care for the business and created a merger for distribution of goods with Antonio Salviati, maker of glass, mosaics, and carved art furniture, and Jesurum. From 1902 through 1906 the business was held by The Venice Art Company of Venice and London and was known as Salviati, Jesurum & Co and as Salviati & Testolini as well as Testolini & Salviati.

After the dissolution of the merger, Marco Testolini attempted to recover the business and maintained one carpentry workshop focused on casting furniture for other companies. Marco could never regain the previous success of the business and gave in to the sale of the workshop.

Between 1847 and the 1902 merger, the Testolini Brothers were extremely successful with their original designs of "Cave", or grotto, furnishings; Neo-Rococo, Venetian Baroque, and Neo-Renaissance furniture.

This suite would have been created circa 1880s as a Neo-Rococo offering and fits in well with Venetian Baroque Revival designs, Italian Baroque and French and Dutch Baroque, William and Mary, and Late Jacobean.

Let us break down the details of each item:

BED : The bed consists of a headboard and a footboard and wooden rails. We have modified the rails so that a double or a queen sized mattress may be used. The construction is finished with matched Italian burled olive wood veneers and applied carved wood arabesques and clamshell motif. The shaped headboard measures 66.25" wide x 1.5" deep x 56.25" high. The shaped and serpentine footboard measures 66.25" wide x 2" deep x 35" high. The footboard stands on Dutch cabriole feet decorated with Neoclassical acanthus leaves and scrolls. The headboard stands on straight legs.

NIGHTSTANDS : The suite includes a pair of nightstands shaped in a stylized galbe en arbalete ( "curve in crossbow" ) design. The construction is finished with matched Italian burled olive wood veneers. The shaped backboard is decorated with applied carved wood Neoclassical acanthus leaves, scrolls and shell motifs. The cabinet doors open with a tug on the cast brass Rococo arabesque pulls to reveal storage space with an interior drawer inset at top. The interior drawer pulls are cast brass and are of Aesthetic Movement design with florals and geometrics. The door hinges are decorative cast brass. The cabinets stand on two front Dutch cabriole legs into which has been carved acanthus leaves and scrolls. The two back legs are a softer, stylized Queen Anne flank-and-hoof cabriole. The measurements of the nightstands vary slightly as they are handmade : 20.5" wide x 15.25" deep x 35" high.

ARMOIRE : The shaped and serpentine front wardrobe features three doors with a shaped and beveled mirror at center. The carcass is veneered in matched Italian burled olive wood and stands atop two front Dutch cabriole feet in which are carved Neoclassical acanthus leaves and scrolls and four splayed legs at rear. The mirrored center door opens to reveal a hanging rod for clothing and a shelf and drawer at bottom which are both removeable. The right and left side doors open to storage space with rods for hanging clothing. The left side has two roughly cut holes at the back bottom for electrical cords. The doors do lock and we do provide a key. The keyhole cartouche escutcheons are incorporated into the door pull designs. The pulls are cast brass rocaille arabesques. The door hinges are decorative cast brass. 78" wide x 22.5" deep x 85" high.

COMMODE : The chest of dresser drawers is topped with a shaped and beveled mirror framed with Italian olive wood. The mirror supports are carved Neoclassical acanthus leaves and scrolls. The mirror frame is topped with a carved wood rocaille acanthus leaves and clamshell application. The carcass is in a galbe en arbalete ( "curve in crossbow" ) shape. It contains three very deep storage drawers which open with a tug on the cast brass Rococo arabesque drawer pulls. The center of each drawer features a key escutcheon in the rocaille cartouche style. The carcass and drawer fronts are finished in matched Italian olive wood veneers. The carcass stands upon two front Dutch cabriole feet into which have been carved Neoclassical acanthus leaves and scrolls and two rear softer, stylized Queen Anne feet. 56" wide x 21" deep x 72" high. Floor to top of dresser : 39.25". Mirror is 33.25" high. Drawers : 7.5" interior height.

VANITY : This low dressing table is finished in matched burled Italian Walnut ( aka Juglans Regia, Royal Walnut, Persian Walnut) veneers. The shaped carcass features two drawers with round cast metal rocaille pulls. The four feet are Dutch cabriole in style and decorated with carved Neoclassical acanthus leaves and scrolls. The round mirror, mirror backing, and Art Deco mirror base is not original to the carcass. 51" wide x 16" deep x 61.5" high.

19,995